If you're still reading, you're in the championship this week…  Or you just really like to know about fantasy football advice that doesn't pertain to you.  I'm hoping you haven't made it this far just to falter on the goal line.  Demarco Murray broke his hand and you don't know what to do about your #1 Running Back position.  You rode Run DMC's coattails to victory these 15 weeks, now who will captain your wheelhouse?
Maybe you were somehow able to survive last week with Julio sitting one out after grabbing the NFL receiving yards lead just a week ago.  Good on you for your team having the depth to survive such losses.  More on how to taste that sweet victory after the jump:
1.) Stop reading those stupid lists!
You know the ones I'm talking about:
**12 super sleepers that will crush your Mom's face and strangle the Kracken from the deep!**

**8 Streaming QBs that Suck now, Start or Sleep!!**

**9 Matchups to bore you to death!!!**
You don't need a sleeper play right now. You're team is in the Ship. You didn't get there by accident. Trust the team that you've been building since before the season even started (or keep rolling the dice with ingenious waiver wire adds). Don't go digging for the proverbial needle in the haystack now.
Think about it this way: How much would you be kicking yourself for the next while year if you played some scrub from a nobody team who cost you the title while your stud makes a mockery of the opposing secondary on your bench. It was all too simple. Just play your monsters and hope they dial up Beast Mode…  As long as they take the field.
2.) Swing for the Fences!!
You know all those developmental projects you have sitting on your bench?  Since this is the final week, they've all become 100% expendable.  Don't worry about dropping any player who isn't on your starting lineup to make room for insurance for your questionable superstar.
Now that you have plenty of room you can hit up the following list to protect your superstar asset.
2.) Feed the Beast after midnight
Beast Mode usually hibernates on Wednesday, but he sat out for two days in a row this week.  On top of that, he has a very unfavorable matchup vs the vaunted Arizona Cardinals D.  That being said, the Beast is ready for his championship release.  As long as he puts in normal practice time Friday, unleash him.  Only if he misses again should you consider moving him down into a gametime decision bracket.
Monitor his status, and be sure to have your trigger finger on his backups:
Robert Turbin = 1st option
Christine Michael = a more dynamic 2nd option
3.) Starve the Crow
Don't even think of starting Crowell after the abysmal Johnny Shutout showing.  The offense is showing too much of a mess to come anywhere near trusting any rookie in the Cleveland backfield.  If anything, you could throw a hail mary on Josh Gordon waking up against the improving Panthers D, but even that seems like a long shot.
Leave the ego of Johnny and the stacked box against the Crow on the bench, or even play him in the "left out" position.
4.) Run DMC
Run DMC (Demarco Murray) seems that he forgot how the human body is supposed to work!  Break your hand on Sunday, and back practicing after surgery on Thursday?  What is he made out of??  At any rate, we have to have a backup plan in case he does turn out to be a humanoid rather than an alien after all.
Joseph Randle = Should benifit most from a limited or absent DMC.  Could we see a repeat of Jonas Gray??!
Lance Dunbar = Isn't it hard to catch the football with a broken hand??  Even if DMC goes, Dunbar might see the Lion's share of passes out of the backfield…  Or Romo might just pass to WRs??  Risky!
4.) Johnny, Jimmy, and RGIII
NO.  NO.  and NO!
If Jay Cuter was your garbage time savior, color me impressed.  You feasted on garbage time and leveraged the huge difference between 5 – 9 NFL Cutler, and top 10 FF Cutler.  Now that he's benched, what are you going to do at QB?  If you were desperate enough to start Cutler, you're desperate enough to start his backup right?  Noooooooooo
DONT jump for Jimmy or Johnny
Johnny Clausen might be better for the Bears in real life, but minus the glorious garbage time that got you this far.
Still thinking about Johnny Clipboard?  Let me remind you of this play:
What about RGIII?

Who then?
Let me reiterate that I'd keep playing my starting QB as long as they're healthy, but if you got Cutler'd this past week, check it out: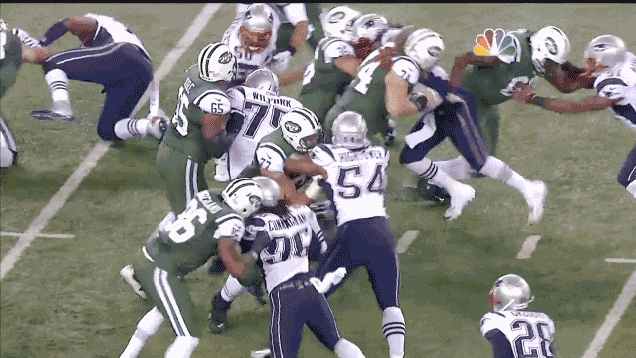 Mark Sanchez (Sat) @Wsh   (YES!  That Mark Sanchez)
Kyle Orton (Sun) @Oak
They're both under the radar (slightly) and have amaze – balls for matchups.  If Buttfumble can't score against Washington with all those weapons on the field and a mastermind pulling the strings, color me surprised.  Orton has certainly been up and down, but he's playing the hapless Raiders who surrendered 297 / 2 / 0 to the likes of Alex Smith last week.
It burns so much to suggest these two, but what are you going to do with your back against the wall?
5.) Julio
Will Julio play?
Luckily J wasn't quite a game time decision last week, giving owners time to plan around their huge WR1 missing time.
Harry Douglas made a nice showing in relief, and is poised to do so again if big J misses 2 in a row.
Bad news.  It seems Julio hasn't been declared either way as of yet.  Be ready come Sunday morning.
6.) Jettison the dead weight
as following:
You can now safely drop any of the following players who didn't make it unto the starting lineup:
Non – starting / Backup QB
Any more than 1 D / ST or Kicker
TE out of the top 10
RB handcuff for a healthy starter
WR 3 – 4 or below (not used for flex)
Use those spaces wisely!  Pick up some players that you could possibly plug and play given the absence of your stars above.
7.) Carolina D
As much as I hate to advocate against my home team, the Browns couldn't have looked worse last week.  Expect Johnny to be in trouble again this week.  If I was a gamblin man and I didn't have a Defense, I'd guess Carolina could put the screws to Mr. Manziel again this week.  Apparantly only 11.3% of ESPN owners agree enough to start 'em when it really counts.
8.) Mind the Schedule!!!
There are 2 games on Satuday this week.  Don't sleep on those games and miss your chance to add / drop players in those games!  It's hard to conceive that anyone left in the Ship will have to worry too much about either of these games, but be mindful in the occasion that you need a fill in before the main showdown throws down on Sunday.  The Saturday games are:
Phi @WSH 4:30 PM EST
SD @SF 8:30 PM EST
So now you have no excuse.  Take that ChampionSHIP!
P.S. If you want to psychologically combat your opponent, pick a Kicker playing Monday to draw the tention out just one more day.  Happy victory dancing!